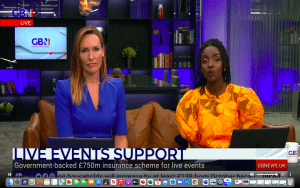 The National Outdoor Association's CEO, Susan Tanner, appeared on national television this morning to represent the industry's response to the announcement of the government-backed insurance scheme.
NOEA has welcomed the scheme as it creates a layer of support and confidence for the industry. Susan appeared on GBTV to articulate what the scheme meant for the industries and the hundreds of event-based businesses that have been hit by the pandemic induced lock downs.
Over the lats 18 months, NOEA has represented the industry both in front of government and through its partnership with other trade associations, as well as in front of the media. The insurance scheme was seen as a long shot by many in the industry and the government's commitment to it marks a change in attitude to the events industry.
This could only have been achieved through the work of NOEA and the many other hard-working associations and groups that have relentlessly taken the case of the event industry to government.